The most mundane job of the Diamond Industry on a daily basis is sorting and maintaining the inventory of diamonds distributed across various departments during the manufacturing process.
In spite of those tasks bearing undue importance, they are highly vulnerable with plenty of room for mistakes, both accidental and intentional, which potentially can lead to high losses. Many of the diamond offices must have had experience of diamonds being wrongly sorted and weighed and of stock mysteriously going missing.
A successful diamond business relies heavily on inventory management of diamonds and other precious stones to ensure that they have the right balance of these stones to satisfy customer demand.
Total IT Service is continually advancing the diamond industry into increased integration with the rapidly expanding use of the Internet. With a strong focus on quality, effectiveness, and timely delivery. We serves our clients with end-to-end solutions designed to execute results-driven programs.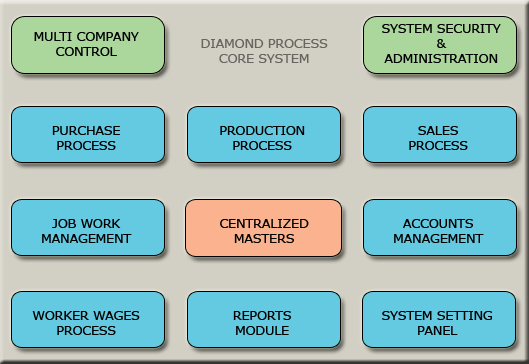 CENTRALIZED MASTERS

Company Master
Branch Master
Transaction Year Master
Location Master
Machine Category
Machine Master
Accounts Category
Accounts Group
Accounts Master
Ledger Master
Narration Master

Worker Master
Transaction Type Master
Transaction Master
Item Category
Item Group/Subgroup
Item Master
Unit master
Quality Master
LOT Master
Grade Master
Rate Master

TRANSACTIONS

Cash Book
Bank Book
Vouchers
Purchases
Purchases Return
Sales
Sales Return
Billing,Credit & Debit Note
Job Work Management

Rough Maintenance
Kapan Allotment
Sawing/Laser Process
Cleaving Process
Lotting
Ghat Polishing
Final Polish
Quality Check
Worker Wages

REPORTS

Purchase Register
Sales Register
General Ledger
Account Books
Profit & Loss
Trial Balance
Balance Sheet
Brokerage
Worker Wages Register
Purchase Reports
(Supplierwise,Brokerwise,
Itemwise,Qualitywise,Datewise,etc)

Sales Reports
(Partywise,Datewise,Itemwise
Qualitywise,Brokerwise,etc)
Issue Reports
(Itemwise,
Datewise,Qualitywise,etc)
Registers
Cost Head Sheet

Note: 100s of reports with different parameter combinations.

UTILITIES

System Login/out...
System Module Master
Sub Module Master
User Manager
User Rights Manager
Edit Password

Cost Calculator
Year End & Forwarding
Lock Transactions
System Backup
System Setting
AD HOC Report Builder