| | |
| --- | --- |
| | |
Primary focus of Human Resource department is generally administrative and not common to all the organisations, so it is not easy to develop a generalized Human Resource System that will serve the needs of any organisation. But the core functionalities can be systematically integrated to accomplish 70% to 80% of the common needs and rest can be customizeded as per organisational needs. We at Total IT Service continuously upgraded our Human Resource System after getting valuable feedbacks from our customer with latest technologies and generalized the same for common distribution. The aim is to satisfy our customer and that will help us to grow.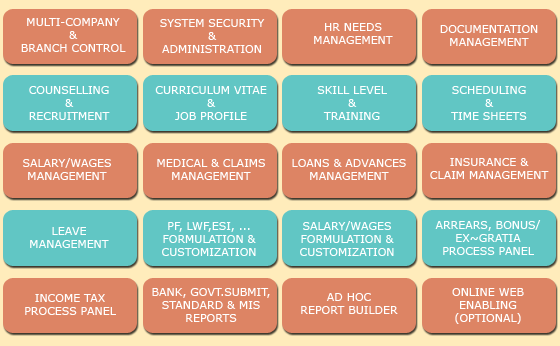 Highly modular with Object oriented technology that helps easy understanding & customization for the organization when in need without depending upon the Total IT Service.
Easily understandable & accessible Structured Data Flow screens/forms that helps quick user operations.
Organized common Masters to centralize data that helps to remove duplicate works.
High level modular security that controls each operations of the modules by the system administrator. User access rights to each module can be systematically controlled by the responsible head/administrator to protect the system from unauthorized access.
Multi company & multi branch/site provision to control all the group companies.
Centralized Multi-user, LAN enabled system.
Latest technology to speed up the functional operations.
Supports various OS & Database Systems.

Multi Company Control - Create & maintain your companies separately with centralized management.
System Security & Administration - Create users, assign access rights to the required modules/core areas separately, track users actions. The access rights to each separate module can be assigned with options "All" or any combination right from "Open a Module", "New Entry", "Modify an Existing Entry", "Remove an Existing Entry", "View" or "Print".
HR needs Management - Keep tracks of your daily HR needs & updates. System will remind/alert you with current status.
Documentation Management - Systematically manage your documentations with all the document details, the need, location, etc.
Counselling & Recruitment - Keep tracks of recruitments & all the recruitment details.
Curriculum Vitae & Job Profile - Well organized Employee Master with customization that helps you to keep each information regarding employee like General Employee details with photo and documents, Job specific details, Family background, Professional background, Interview details, Salary Structure with one screen tab facilities. All the needed features are included that will support each organisations needs, still you can customize to fill other specific details if you need.
Skill Level & Training - Define the skill levels of the employee in different departments/job area and assign the skill set to each employee. Manage trainings(with all training details) and keep track of the attended employees. Recruit an employee to specific job area as per their job skill set in emergency/in absense of any employee.
Scheduling & Time Sheets - Create shifts & time frames and allocate to employees with shift rotation(if needed). System will take care of the same and keep 100% time sheet perfect.
Centralized Masters - The system is well organised with different masters to control all the HR system needs like Employee Category, Designation, Grade, Holiday, Bank, Leave, Salary Structure & formulation, etc.
Loans & Advances Management - Manage your employee loans & advances, system will take care during preparing salary sheet.
Medical & Claims Management - Well organised Medical & claims management for employees.
Insurance & Claims Management - Manage your employee insurances with tracks and integrate with Payroll system.
Leave Management - Online/offline employee leave application entry, automatically forwarded to the respective head for authorisation and finally passed to HR department for final authorisation. After final authorisation system will take care the rest processes.
PF,LWF,ESI,... Formulation & Customization - No neeed to worry about your Provident fund, labour welfare, ESI or any Govt. submitted reports monthly, annually or any reports as required.
Reports - All the standard reports, Finance need reports & MIS reports are readily available.
AD HOC Report Builder - Report builder is there to take care of any customized report that to be developed.
HR Rules/Formulae Change - Easily Customize/Formulate the system to change any rule that effects the HR system without depending upon the provider.
Employee Salary/Wages Increments - Keep tracks of increments of each employee.
Arrears Process - A single click will help you to calculate the arrears(if any) for any/all employee(s) when in need.
Bonus/Ex~gratia Process - Once you formulate your Bonus/Ex~gratia(one minute job), system will keep ready your Bonus/Ex~gratia sheet.
Income Tax Process Panel - Once you fix the Income Tax norms into the system, system will take care to keep ready the Income Tax sheet for all the employees.
Attendance System Plugin - Plugin to standard interface Attendance systems like card reader, card punch, Magnetic Cards, Finger Print systems, etc to automatically receive the attendances of employees.
Access from Everywhere - Plugin to Web module that will help to access the HR system with high lvel security encryption from virtually anywhere of world.
Easy Control/Customization - Easily control the features you need by setting the customization panel. Some features may not you need can be stopped by a single click customization. What you like to control is your interest, we have provided much more.
24x7 Customer Care - With great care we have designed the system to avoid any interaction with us except kick start installation and training at first stage. Still we are ready to help our valuable customer at any time(24x7) when in need.