| | |
| --- | --- |
| | |
When it comes to Inventory Control System lots of options needs to be considered right from Inventory Management Software Costs, Functions, Integration and Maintenance. Total IT Service provides professional, customizable, inventory control software that's affordable for your organization.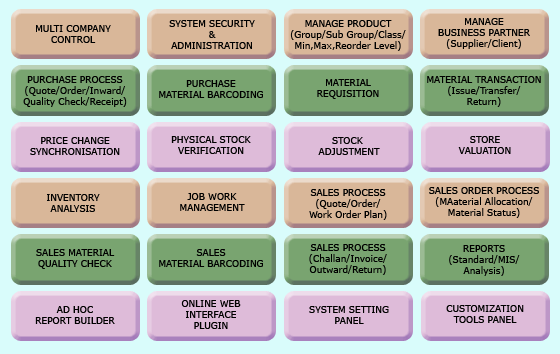 Highly modular with Object oriented technology that helps easy understanding & customization for the organization when in need without depending upon the Total IT Service.
Easily understandable & accessible Structured Data Flow screens/forms that helps quick user operations.
Organized common Masters to centralize data that helps to remove duplicate works.
High level modular security that controls each operations of the modules by the system administrator. User access rights to each module can be systematically controlled by the responsible head/administrator to protect the system from unauthorized access.
Multi company & multi branch/site provision to control all the group companies.
Centralized Multi-user, LAN enabled system.
Latest technology to speed up the functional operations.
Supports various OS & Database Systems.

Multi Company Control - Create & maintain the inventory separately for your companies with centralized management.
System Security & Administration - Create users, assign access rights to the required modules/core areas separately, track users actions. The access rights to each separate module can be assigned with options "All" or any combination right from "Open a Module", "New Entry", "Modify an Existing Entry", "Remove an Existing Entry", "View" or "Print".
Manage Product - Create Products Major Category, Group, Subgroup & Product codification plan in respective masters. Define the Product Class(1,2,3...) as per the products importance to your business. Define units, currencies, etc in some other masters. Finally maintain your Product Master with all the parameters of the product including conversion factor, Min Level, Max Level, Min.Order Quantity, Max.Order Quantity, Reorder Point, Inventory Period, etc.
Manage Business Partner - Maintain Business Partners(Suppliers/Clients) with all the details that you need for your business.
Purchase Process - Maintain all the quotes from the suppliers, Raise order with best quotes comparison, on delivery maintain Inward Register, after Inward check the Product(s) with Quality Control Department, Reject and/or Receipt the product(s)- prepare GRN. All the stages are well organised interlinked for better analysis & reporting.
Purchase Material Barcoding - Prepare barcodes for products(Purchased/Job Worked/Production) before shifting the products to store for quick identification, easy transaction, etc.
Material Requisition - Prepare online Material Requisition from any departmental location without going to the store, automatic circulation of Requisition to respective Head for Authorisation and finally post the Requisition to store.
Material Transaction - Maintain all the product Transactions like Issues, Transfers, Returns, Rejections, etc. with well organised onscreen updates of product stock status, allocation status, etc.
Price Change Synchonisation - Maximum times after purchase/Job Work Dealing the price of the products changed and if not updated all the consumption, valuation reports goes wrong. The module will timely check the updates and synchronise the same respectively. The panel works with auto/manual update options. The auto update will synchronise the change immedeately, whereas the manual needs your interaction & confirmation.
Physical Stock Varification - Due to mishandling of store may your physical stock defers with system that time you need the module for easy verification of materials after going through physical inspection.
Stock Adjustment - Direct interaction to decrease/increase the stock is not allowed in system, needs the proof of each transaction made, the item ledger should be always perfect. The Stock Adjustment module is needed to adjust the stock when the physical stock defers with system, which will keep tracks of all adjustments.
Store Valuation - A process module takes seconds to evaluate the current/past(specific time) valuation of store.
Inventory Analysis - An interactive module helps analysing the real inventory with so many parameter/criteria combinations.
Job Work Management -
Allocate/Issue Raw/Semi-Finish/Finish materials for the job as per the needs to insite/Outsite Job Contractors. Maintain tracks of completed & incompleted jobs, give intime alerts to followup, maintain all needed transactions.
Sales Quote - Prepare & maintain Sales Quotations with all the needed parameters with so many interactive features that will help to attach by importing needed documents from other office applications. Keeps tracks of quote updates/changes, quote finalization and links with Sales order for easy analysis.
Sales Order - Post the Sales Orders manually/semi automatic by importing finalized quotes with all the required informations. The panel shows online status of each order which helps for faster descision making without going through reports.
Work Order Planner - Plan the order with current stock status of needed products and manage production.
Sales Order Processing - Allocate/Book the needed products from current stock and process for partly order delivery(if needed).
Sales Material Quality Check - Keep tracks of Quality Inspection done and Prepare Quality Inspection Documents(if needed).
Sales Material Barcoding - Barcode the material after production & Quality Inspection. This is common module for both Purchased & production Materials.
Sales Process - Prepare challans/Delivery Notes, Packing details, Alerts to keep ready the documents as per the sales needs, Prepare Invoices, Maintain Outward Register, Maintain Sales Returns with all the return status and redelivery status.
Reports - 100s of standard, MIS & Analysis reports with periodic & different parameters combinations available.
AD HOC Report Builder - Report builder is there to take care of any customized report that to be developed.
Online Web Interface Plugin - Plugin to Web module that will help to access the Total IT Service Inventory Control system with high lvel security encryption from virtually anywhere of world.
System Setting Panel - Centralized features settings for each module(Customization on readily available system resources).
Customization Tools Panel - Common plugins & tools that will help to customize the system as per the needs. Some features may not you need can be stopped by a single click customization. What you like to control is your interest, we have provided much more.
24x7 Customer Care - With great care we have designed the system to avoid any interaction with us except kick start installation and training at first stage. Still we are ready to help our valuable customer at any time(24x7) when in need.